09 May 2017
|
Find your Dorset ancestors at Dorset History Centre
Discover how to find your Dorset ancestors with our guide to the many family history resources held at Dorset History Centre.
Dorset History Centre cares for thousands of documents, photographs and maps relating to the history of Dorset, Bournemouth and Poole. Collections include:
Family and estate archives
Oral histories
Business records, including Poole Pottery and Stewarts of Ferndown
Court, prison and police records
Record of Dorset schools, societies and clubs
Dorset County Lunatic Asylum records
Dorset local studies collection
For more information on any of the above, visit the Centre's collections web page.
In addition to parish records, the Centre also holds a number of other resources which can offer similar or supplementary information. These include bastardy papers (where the parish overseers interviewed a mother expecting an illegitimate child), settlement papers (which can include brief biographies) and the accounts of churchwardens and overseers, which often include the names of people receiving poor relief.
The Centre's manorial and estate records can also be a source of names and information on Dorset people of the past, and the Centre holds more than fifty such records for the county. These include lists of jurors and officers of the court, maps of manors, rentals and conveyances of land.
Dorset History Centre Projects
Staff and volunteers at the Dorset History Centre regularly work on projects to improve access to the collections. One of the most recent projects was a two-year project to catalogue the records of the Borough of Poole, which was carried out by staff and volunteers.
Work is also underway on a Heritage Lottery funded project to catalogue and support the discovery of the internationally significant archive of the Bankes family of Kingston Lacy, which is one of the largest estate collections held by Dorset History Centre. Find out more about the project here.
Family historians will also be interested in stories of individual Dorset men and women during World War One, including RSM George Beck whose Western Front diaries are being published online 100 years after they were written here and on twitter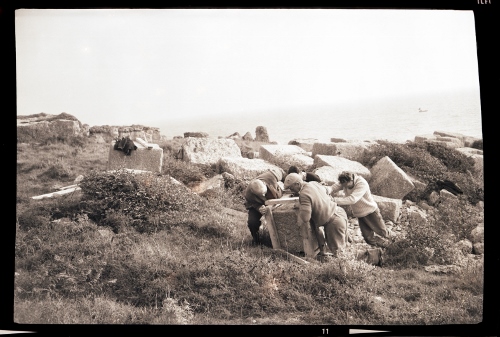 @RSM_GBeck; and the Herbert Collection, which comprises thousands of photographs taken by commercial photographer Graham V Herbert, who ran a photography business in Weymouth for thirty years, beginning in the 1950s.
Content continues after advertisements
The photos include images of locals and holidaymakers, as well as much-loved Weymouth landmarks.
The Dorset Sound Archive comprises more than 500 hours of oral history recordings, covering a variety of topics including:
World War Two
school life
local history
light industry
crafts
the Portland Naval Base and its closure.
Many of these recordings have been digitized and written transcriptions are also available for some of the interviews.
The Centre's catalogue can be found here and staff recently added the 300,000th entry to the descriptions of documents, photographs, maps, plans and digital records. Anyone searching for Dorset ancestors will also find the online research guides of help.
Dorset History Centre holds regular events including family history sessions designed to help anyone new to tracing their ancestors. Dorset Archives Trust, an independent charity which supports the work of Dorset History Centre, also runs fundraising talks on interesting local history themes. Recent topics have included Dorset railway closures, local artist Rena Gardiner and the Bankes family.
Visiting information
Bridport Road, Dorchester DT1 1RP; Tel: 01305 250550; website.
Open: Tue-Fri, 9am to 5pm; first and third Saturday of the month, 9am to 4.30pm.
---
Images from top: Retrieving documents from the purpose-built environmentally controlled repositories; An illustrated page from the burial register for Puddletown, 1678-1716 (reference: PE-PUD/RE/4/1); From the Herbert Collection: manually transporting quarried limestone on Portland, 1960s (reference: D-HBT/5275/k); A bill head from a net and twine works, Bridport, 1899 (reference: D-394/2).
Content continues after advertisement