20 January 2020
|
Exploring your family tree and finding new ancestors is at the heart of family history, but there are certain situations when hiring professional help could be a smart move, writes Paul Chiddicks in his latest blog.
Whether you are completely new to family history, a seasoned campaigner, or like me an enthusiastic amateur, at some point you are going to come to a grinding halt with your research. This could be on a whole family line that you hit a brick wall on, or it could be just an individual ancestor that you are having difficulty with. Either way you have reached the dreaded genealogy brickwall.
There are lots of great tips and guides available online, with good suggestions on different ways to approach genealogy puzzles, but let's assume you have literally exhausted all possibilities, where do you turn now?
Why not consider hiring a professional? Just to quantify that statement, I am neither a professional myself, nor do I carry out any paid research for individuals, so I am not advertising my own skills here. I am merely suggesting the merits and value in using professional researcher. Read on for five situations where hiring a professional could really benefit your research.
1. Logistics
Simple logistics, as the particular records that you seek might be far away from your own location. A large proportion of my own family history is based in Essex, where I grew up. I only started tracing my family history after I moved 200 miles away from Essex, to Cheshire.
So in my case, it's literally more economical to use somebody local, 'on the ground', to do some specific research on my behalf. If you factor in my travel costs, food, overnight stay etc, hiring a professional for a few hours work makes far more sense.
Content continues after advertisements
2. Specific expertise
For example, you might need to hire an expert in military history to trace the records of wartime ancestor. Although a lot of these records are now available online, on the various subscriptions sites, understanding and interpreting them is a more specialised field and something that you might need additional help with.
I know when I first started tracing some of my World War I ancestors, it was like trying to read a code. You can gradually acquire these skills, but taking your research to the next level in this sort of situation will possibly require the help of a professional.
3. Older records
If you have been fortunate enough to trace your ancestry back to the 1700s, you might start finding a large proportion of the documents you find are written in Latin, therefore you might need some expertise in this area, or somebody to help you understand legal jargon in a will for example.
4. A DNA puzzle
You might have taken a DNA test and you are struggling to interpret the results, or you might be looking for a particular missing ancestor and have taken a DNA test to help you with that. Either way, hiring a professional DNA expert makes perfect sense.
5. Lack of time
Is your own life too busy to dedicate enough time to your research? Are you wasting your time carrying out fruitless searches on the various subscription sites and are getting nowhere? By utilising the skills of a professional you can save yourself both time and money. Remember these people are accessing these records on a daily basis and know exactly where to look.
How do I find a professional family history researcher?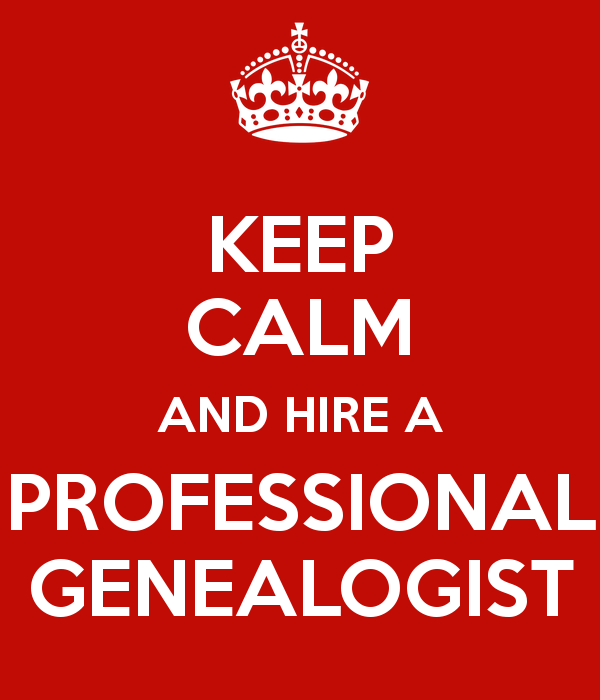 So lets assume you have reached the point of needing some kind of professional help, where do you go to find a professional genealogist and more importantly, how do you know they are reputable?
Like everything in life, you need to do your research! You would not employ the first plumber in the telephone directory, so likewise, you need to choose your genealogy professional with as much care, you are paying for a service, so you want the best value for your money.
You will find there is a large choice of professional genealogists out there, so you need to be able to find a way of reducing the choice, to one that is a best fit for you. Personal recommendations are a great starting point, but they might not give you the specific skill set that you need. What else can you look for to help you make an informed choice?
Genealogy qualifications
Qualifications are always a good thing to look for; a member of a Genealogist Professional body should at least guarantee a recognized standard of quality. Being a member of The Association of Genealogists & Researchers in Archives (AGRA) guarantees that an individual has produced a certain standard of work, which has been assessed independently, to a required standard. Being a member of AGRA also means that the Member is bound by their Code of Practice.
AGRA is also the only independent body that will follow up a complaint on your behalf, should the need arise. AGRA also has a partnership with the Scottish Association of Genealogists as well as the Accredited Genealogists of Ireland. Although qualifications are not the only yardstick to go by, it's certainly something to bear in mind.
Research questions
I would also recommend meeting with your genealogist beforehand, face to face, you need to work together, so it's important that relationship works from the off. You should also have a specific research question in mind, rather than "I want to find out about my Chiddicks family", for example.
Be more concise with your question; "I am trying to find the baptism record for Samuel Chiddicks, born appx 1761?" Also supply your researcher with what you have already discovered, where you have looked and what sources you have, for what you have found. If you take this approach, your professional has a more specific brief and can then inform you of what the research is likely to cost.
In the long run, hiring a professional researcher can save you pounds, don't look at what you have to pay out, look at what you have saved by taking a much shorter route to solve the brickwall problem that you have. I have used a professional genealogist numerous times in the past and wouldn't hesitate again in the future.
Choose your professional wisely and it might open doors to a whole new family history adventure!
By Paul Chiddicks.
Follow Paul on Twitter and his blog.
Researching the names: Chiddicks in Essex; Daniels in Dublin; Keyes in Prittlewell; Wootton in Herefordshire and London; Jack in Scotland, Day in Essex, Kent and Gloucestershire.
QUICK LINK: The top ten sins of a genealogist
(images courtesy of AGRA)
Content continues after advertisement